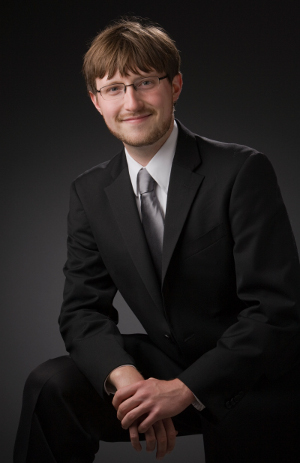 Avery Griffin
baritone & composer
<! -- end of header div -->
News: Updated August 10th, 2014
My band Roomful of Teeth, a vocal octet specializing in original experimental music and vocal techniques from around the world, was in Seoul, Korea, from August 4th to August 10th for this year's World Symposium on Choral Music. Read more about Roomful of Teeth and check out our album if you are so inclined! You can also listen to an EP of Partita for Eight Voices, a four-movement work by Roomful of Teeth member Caroline Shaw which won the 2013 Pulitzer Prize for music composition.
The 2014 Carmel Bach Festival in Carmel-by-the-sea, California wrapped on Saturday, August 2nd. This was an especially exciting season for me as I had the opportunity, on Sunday July 27th, to perform David Lang's Little Match Girl Passion for four singers who also play percussion instruments (I was assigned to glockenspiel and tubular bells) at Sunset Center, the primary performance venue for the festival. The work is meant to tie in with Bach's St Matthew Passion, which had just been performed a few hours earlier in the same venue. Read a review of the performance from San Francisco Classical Voice and another from Monterey County Weekly.
Mia Micic, a former student of mine from the New York Philharmonic's Very Young Composers program, which gives elementary school students the opportunity to write for professional instrumentalists and, in some cases, entire orchestras, recently had an orchestra piece of hers, Raft Dino Spies, performed by the Napa Valley Youth Symphony at New York's Carnegie Hall. The symphonic version of the piece, which I helped orchestrate, was premiered by the New York Phil at the 2013 School Day Concert.
Featured Media
A selection from the St John Passion with the Trinity Baroque Orchestra.

Performing with NotaRiotous, James Bergin conducting.

The Western Wind performs my setting of Sonnet 75.

My opera, A Game of Chess, with Victoria Tralongo as Lil, TJ Bourne as Eliot, Rebecca Calissi on piano and Matthew Smith conducting.

<! -- end of FeaturedMedia div -->

<! -- end of main div -->