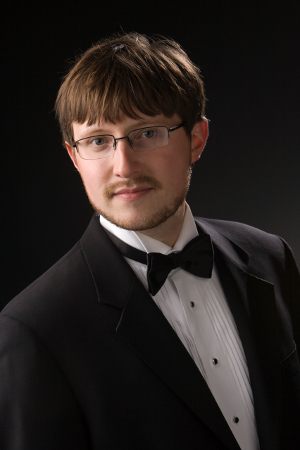 Avery Griffin
baritone & composer
<! -- end of header div -->
An eight-part vocal ensemble founded in 2009 by Williams College professor Brad Wells. Roomful of Teeth is dedicated to building a new body of chamber music repertoire for the human voice through the study of singing techniques outside of what is found in traditional Western classical music.
After studying the basics of new world vocal techniques with recognized masters every summer at the Massachusetts Museum of Contemporary Art (Mass Moca), composers and the members of the band collaborate to incorporate aspects of these new sonic colors into an ever-widening body of new compositions written with the unique timbre of each specific singer of Roomful of Teeth in mind. Techniques we've already studied include Tuvan Throat SInging with Ayan-ool Sam and Sean Quirk, Yodeling with Kerry Christensen, and belt technique with Gayle Lockwood.
Below find an audio file of Beneath by composer Caleb Burhans, an example of a Roomful of Teeth song combining elements of harmonic singing, the belt vocal technique found in such disparate forms as Hugarian folk songs and Broadway pop ballads, and repeated music based on electronic looping techniques.
Founded in 1995 by Jon Deak, renowned former Associate Principal Bassist of the New York Philharmonic with over 300 original compositions to his name performed by prestigious ensembles including The Chicago Symphony and The New York Philharmonic, the Very Young Composer Program, now centered around the NY Phil's education department, seeks to encourage and nurture the natural creative energy and expressive voice of individual elementary school students both in public and private after school programs across the country and worldwide.
I am one of many Teaching Artists who work with students to help find their unique composer's voice through classroom activities designed to introduce complex concepts like rhythm, melody, harmonic progression, counterpoint, and harmony. Students in the Very Young Composer Program are usually in the 5th grade. During our sessions guest musicians come to demonstrate their instruments, giving the students amazing access to expert advice invaluable to any composer. The culminating event of the program is a concert of completely original student works performed on the instruments demonstrated in class (usually four to six), often by the same guest instrumentalists who perform the demo sessions.
You can learn more about the Very Young Composer by visiting the New York Philharmonic's page on the program. Also please check out the Songcatchers private after school program in New Rochelle, NY, where I help to run a similar program where students have the chance to have their final pieces premiered by the Symphony of Westchester.
<! -- end of footer div -->